1. Identify your audience
When it comes to social media strategy, it is essential that you distinguish the specific audience that you want to reach. Most businesses will not have a target audience that is classified as, being for 'everyone'.  Review your brand, consider your target demographics, such as age and location. At this point, it is also important to study how your clientele interact with social media, whether there are certain platforms that resonate more than others and how your business can utilise this.
2. Establish a consistent posting pattern to use across your social channels
Setting up a business social media account allows access to a variety of useful tools that can help you align your marketing strategy with your target audience. For example, Facebook for Businesses' 'insight' tab will help you establish which posts are working whilst also highlighting where you may need to improve. The 'Post' section within the 'Insight' tab presents a graph (below) that displays the times throughout the day that your following are most likely to be online and engaging with your profile. 
Calculated over a week, this graph can be viewed by day, (where an average of your following is collected for each day of the week) or even by hour for really granular observations. Acknowledging the days and time periods with the most activity on your platforms will ensure that you are optimising the potential reach of each of your posts in line with your following.
3. Be Human
A key factor that many freelancers and small businesses tend to forget when they use social media is to be personable. Showing that you are willing to accept criticism in the face of negative reviews or even answering a simple question shows that you value the opinions or frustrations of your target audience. As the digital world grows more and more interested in being 'transparent', your followers want to be able to get to know the deeper, friendlier, value-led personality of your business. It is also important to note that you can use your social platform as an alternative voice to your other print collateral and digital platforms.
Many companies are now not afraid to poke fun at themselves or even talk to their followers like they would friends. Similarly, many companies often take this a step further through showing a 'human side' or rather putting a 'face to the name' of the brand. Ways that companies tend to do this is often through office photos, or 'a day in the life of…' styled videos showcasing what it's like to work behind the scenes. Some bigger companies use this as a way to highlight their volunteering contribution to a local area or to mention charities they work closely with.
4. Plan ahead
Although it is nice to be human and respond to your following, the ability to be able to do this lies in having a strong schedule to rely on. When planning your monthly incentives or paid advertising, it is important to factor in where your social media presence sits within this.  Noting your key times to post will allow you to schedule your advertising at points throughout the week when your following are most likely to be online and active.
A content calendar acts as an easy way to map out your week by week, monthly or even yearly schedule. Here you can categorise your posts, noting any reoccurring themes over the weeks like, flash sales, paid advertising, or content that engages well with your audience. A useful tool for this is Google Calendar. Simplistic but effective in its form, your Google Calendar social schedule can be shared with multiple users / teams and it's pop out functionality allows easy navigation for each user to note the detail of each post.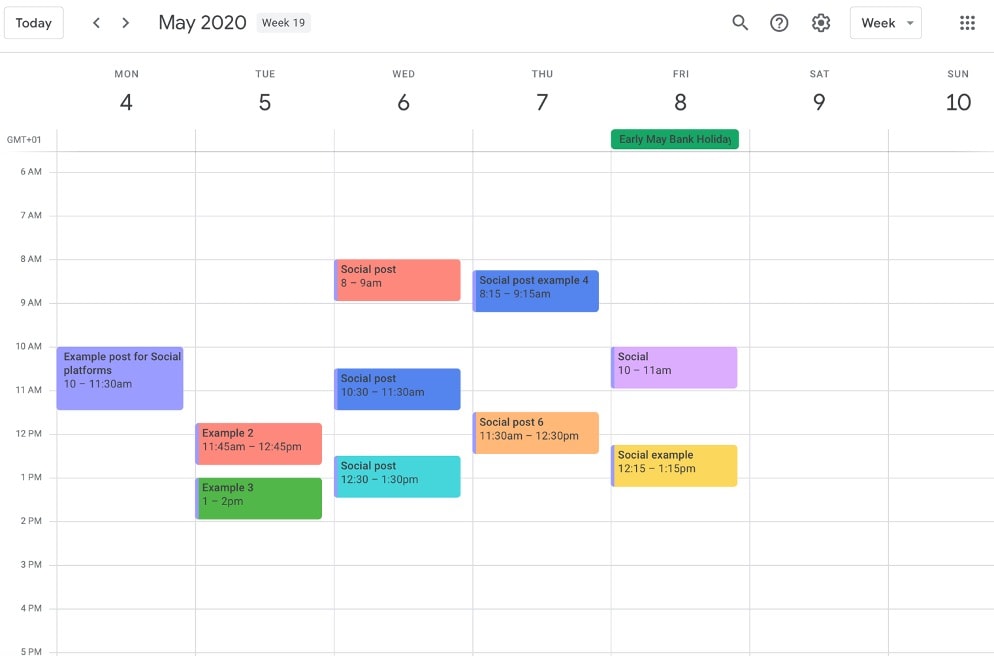 It's common that many small businesses will be juggling multiple social media platforms but wanting to deliver a similar message across all. Hootsuite, is a content scheduling tool that allows you to formulate your social media posts and manage their release across multiple platforms. Much like Google calendar, Hootsuite allows you to see your post scheduling on a week-by-week view (below). 
Once you have linked all of your accounts, you will be able to begin organising your content. It is important that we refer back to point two within this article and ensure that you have established when the most effective time to post content across your platforms are. This way you can deliver the same message on multiple platforms using one tool. 
Other scheduling tools to trial or consider purchasing:
5. Enhance your engagement with photo or video
Visual content is now a reoccurring theme for businesses across social media platforms. To ensure you are captivating your audience, it's important to create 'thumb stopping' content. You want to present something that will make your following stop scrolling and engage with the content you are offering. Sometimes a status update or tweet can do just that. However, both Facebook and Instagram's algorithms suggest that users are more likely to be drawn to an image or video before even bothering to read the text. 
Taking this into account, it is important that you use original, high quality imagery and multimedia content on almost all social channels. Throughout your image and video content, you should consider highlighting characterful aspects of your business, such as team photos, customer feedback, visual advice to potential clients, or even a sneak preview of what's coming up in the near future.
Conclusion: 5 ways to optimise your social media channels to increase followers & boost engagement
Now that you have read this article, you will have the knowledge you need to begin optimising your social channels for rapid digital growth! Using each of the 5 tips above, you'll be able to manage consistent and engaging social media campaigns across several social channels to capture the attention of new customers.
If you've been reading this and feel that you would rather hand over the task to an expert who will manage your multi-channel social media strategy for you, then please get in touch with us at
hello@cleardesign.studio
.