When it comes to fonts and typography in a logo, you have to be very careful with your selection. It's a critical stage of the design process and requires quite a lot of effort on the part of both the graphic designers and the business owners. Basically, the font as well as the initial typeface you choose for a brand identity design will play an integral role in winning the attention of the consumer.
The colours, typography and fonts are a few design elements which can make or break the overall logo design. If the typeface doesn't complement the colour scheme, structure or represent the company's values, then it could be confusing for the audience. They might not be able to figure out what the brand is all about and certainly won't be captivated and excited by it.
In order to make sure that you end up selecting the right font pair for your logo, here are a few rules you should keep in mind.
1. Know the meaning of different fonts
As it is with colours, typefaces also have a meaning associated with them and can bring out certain feelings and emotional responses in people. Before you choose a typeface and font, it is important that you figure out what you want your audience to think and feel when they see your logo.
For example, Sans Serif has a modern and futuristic appearance which is why it's commonly used in several logos across industries such as transportation, electronics and technology. It conveys the message of stability, strength and progress. Panasonic, Toyota and Microsoft are just some of the examples of big brands that have opted for Sans Serif font styles in their brand identity designs.
When the audience comes across this typeface in a logo, they are not only clear on what the business has to offer but also feel positive about investing in its products or services.
2. It should be appropriate
Put simply, the typeface you pick should be appropriate for the brand and reflect its message and values. So think of it this way. If your business is in finance or medicine, a quirky, decorative or extravagant typeface might not be the right way to go and might end up distracting the consumers. A traditional and reliable Serif typeface would most likely suit a logo for a company in such a field. This is quite a clear example but other industries will require you to do your research and analyse competitor brands in order to identify the best typeface to use.
This doesn't mean that you should be staying away from experimenting or using unusual fonts in your logo. You just have to be particular about choosing one that can be associated with your brand in the long run and won't leave potential customers confused or unimpressed.
For instance, if you run a restaurant or an entertainment company, like Chick Fil-A or Walt Disney Corporation, you can make the font in your logo fun and youthful.
3. Keep it as simple as possible
When selecting a typeface, you want the audience to be able to read it easily and be clear about what its saying. With too much going on in the fonts, your message might be lost. Think about it this way. A custom or unique typeface works very well for branding but they key is to avoid getting carried away.
Take the example of Coca-Cola or IBM. While the beverage company's wordmark has a flowing script unique to the brand, IBM has opted for a simplistic, solid font. Since both these logos keep the attention on only the font and typeface, the designers had to make sure that they made an impact without confusing the audience or losing the brand message.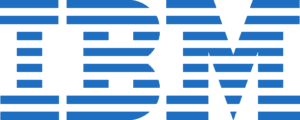 4. Combine or pair typefaces
You can use two different typefaces in your logo and pair them up effectively. However, do not go for more than that as it could make your brand identity design appear disruptive. If your symbol only has the name of the business and there isn't a slogan or tagline, you can stick with your primary font.
In case there is one, you can opt for a pairing of typefaces and fonts such as Serif with Sans Serif or Slab Serif. It might be an effective combination of modern and traditional, and add to the appeal of the logo design. Before dropping its iconic tagline from the logo, KFC had it featured in a friendly display font along with the company's letters in Serif typeface.
5. Check for scalability
The font of a logo should to be scalable so that it is legible everywhere it is displayed. If the typeface does not have the same impact on print and digital platforms or merchandise such as clothes, bags and stationery, it will cause challenges in branding.
In order to avoid such a situation where your audience cannot make out your logo on a screen or in a magazine, you should check whether the typeface is scalable or not. While Serif and Sans Serif fonts may work well on various backgrounds, some scripts and slab serif styles might lose their appeal on curved surfaces or in congested spaces.
Conclusion: Choosing the right font for your logo design
Choosing a typeface may require a lot of thought and effort but if you are mindful of these rules, you could end up making the right choice. By following them, you may avoid common mistakes and create a logo that is timeless and catches the eye immediately.
Writer bio – Anthony Scott
I love writing. If someone asks who Anthony Scott is my colleagues and friends will tell you that I'm a geek into gadgets, photography and software. I like to find out how things work, and if possible write about it. I'm new in this field of content writing, and I hope I can succeed in convincing readers with my writing.