In this digital era, the significance of having an engaging website is beyond doubt. As such, hiring a Web Designer is a big decision that requires a careful decision-making process. A Web Designer is responsible for creating the design and layout of your website. The process of actually building the website using code (for example, HTML5, CSS and JavaScript) is usually carried out by a separate Web Developer. However, it is now increasingly common for Web Designers or web design agencies to offer a comprehensive website design and development service, including both the design of each webpage and the process of actually building and hosting the site. As more and more industries continue to put emphasis on their online presence, the demand for web design and development professionals is increasing rapidly.
Hiring a Website Designer can be a difficult task, but it is crucial for your business or organisation. Your website is a gateway to your digital brand and your product or service offering. It is how your customer recognises you and how you demonstrate yourself to the world. Several Web Designers can help you create websites, but you need to catch one that comes with great experience and the highest skill level available. Therefore, we've summarised seven key questions to ask before hiring a Web Designer.
1. Will Search Engine Optimisation (SEO) be utilised during the development process?
A professional Web Designer must be familiar with the concept of Search Engine Optimisation (SEO) in order to ensure your website ranks highly for key search terms in your industry. There are a number of website design and SEO consultancies in the UK that can help your business achieve significant growth through targeted campaigns and competitor analysis. Several website design companies also offer built-in SEO as part of their website design services. This is absolutely essential. There isn't much point having a spectacular, beautiful website if nobody sees it. Ranking highly on Google and other search engines has to be a priority. 
2. Does the Web Designer have examples of their work you can browse?
Experience is one of the main factors to look at before hiring a Web Designer. Most experts will demonstrate some of their great work on a portfolio page on their website, but if it is not there, make sure to request that the designer sends some past work. It is also beneficial to see if the Web Designer has any client recommendations or five star Google reviews before hand over your hard-earned cash. You may also want to consider whether your designer has attained any achievements or accolades for their work. An experienced Website Designer will be more reliable and more likely to build an appealing website for your business.
3. Who will provide the written content and imagery?
Most Web Designers won't provide the text or images for your website. This is usually something that they would expect you to supply. If you're ready-to-go with captivating copy and high-quality imagery then this won't be a concern. However, if you aren't confident providing written content and original imagery, then you're going to want to check if the Web Designer offers copywriting and photography services. If not, they may have connections with other Writers and Photographers who will provide the relevant website content.
4. What are their areas of expertise?
It will be a useful step to explore whether the Web Designer has a particular area of expertise. There are generally two approaches taken. Many larger agencies go for a general model, trying to design websites for as many clients as possible, while other designers occupy a niche and have a specific area of expertise. For example, some companies may focus exclusively on building websites using the WordPress (the most common content management system), whereas others may focus on Joomla or Shopify sites. Most websites and portfolios will determine what this expertise is, so it shouldn't take much inquiry to understand where they stand.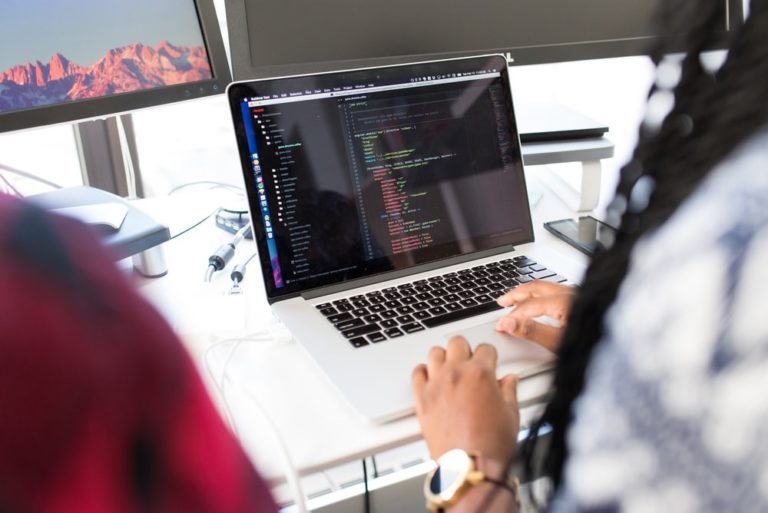 5. What other services do they offer? (e.g. will website hosting and maintenance services be included?)
Before hiring a Web Designer, you must consider what services they can provide. A qualified Web Designer offers multiple services such as competitor research, design and development, hosting on a secure server, and ongoing maintenance to fit in with your requirements. You need to ensure that you have run through each element you need, from the domain name to the site functionality, in order to ascertain whether the designer will be capable of fulfilling your goals.
The web design and development process constitutes several different phases, and the web design companies you approach may only work on one of those phases. Hence, you will either want to hire someone proficient in managing everything at once or find experts in the specific task that you require.
6. How will they update you throughout the process and what is their timeline?
Before parting with your money, you should inquire about their communication process. Will they be available to talk when you need them? Effective communication between you and the Web Designer is a requisite part of the process. Strong communication is an ability that every proficient designer must have. They need to be able to deliver the technical information you need in clear language (no jargon!), so you and your chosen designer can discuss every tiny detail of the work and be on the same page. Offering the design work over to someone who likes to impress you with unnecessarily complex terminology and industry-specific jargon certainly isn't advised.
7. How much will the website cost?
This one doesn't require too much explanation as I imagine most of you will have considered this days, weeks or months before reading this article. Remember to be upfront about having a specific budget that the designer needs to meet. You'll also need to establish exactly what the designer is offering you for their quoted price. Receiving this information before sending the initial payment will avoid money-related disagreements further down the line.
Conclusion: 7 questions to ask your Web Designer before hiring them to build your site
The design of a website has paramount importance. It dictates whether your online audience have a positive or negative first impression of your products or services. However, it isn't an easy task to decide what style of website you need in order to entice your desired customers. So, it's better to work with a professional Web Designer who will provide an expert level of service. A good Website Designer should have a natural talent in determining what type of design will appeal to your audience.
A professional Web Designer must be proactive and creative, with good SEO knowledge, technical ability, analytical skills, and experience using the most commonly-used content management systems (e.g. WordPress)T