Building a website has never been easier due to the introduction of DIY, low cost online website builders such as Wix, Squarespace, Shopify and Weebly. And whilst it's true that these companies are both user and bank balance friendly, given the importance of online presence it's worth considering if you really want to go it alone. Below we outline some of the pros and cons of using an online website builder compared to hiring a professional web design agency; so regardless of your final choice you can be confident that you're making an informed decision.
The cost
Let's not beat around the bush- hiring a professional web design agency is going to cost money. If you have only recently set up your business, or have only just started to establish yourself, these could be funds that you don't have access to right away.
An online website builder like Wix or Squarespace is almost certainly going to cost less, with many offering attractive new customer pricing and discounts. Building and designing your own website can save you valuable cash in the short term, however you will often find the cost of online website builders increase significantly after an initial offer period, or you'll have to pay for additional add-ons or functions for your website beyond a basic template.
Wix, one of the cheapest options, currently charges £8.50 per month for freelance websites and upwards from £13 per month for e-commerce businesses. Squarespace is generally regarded to be a higher quality option and its prices reflect this. Prices start at £10 per month for personal websites and £20 per month upwards for e-commerce businesses.
Web design agencies are a bigger initial investment. The price of website design and development tends to range anywhere between £1000 – £5000 for small business websites in the UK. It is therefore important to choose wisely and spend time looking for an agency that is the best fit for you and your business. You'll need to assess the quality of their website design service in relation to the price they charge. If you would like to read more about the right questions to ask web designers, we've written a quick guide on hiring a professional web designer.
Watch out for 'web designers' who promise to build you a site at a very low cost (e.g. less than £750 or $1000) because they tend to deliver shoddy work leading to a waste of your time and money.
Time
An advantage of creating your own website with Wix or Squarespace is that you have control of your timeline, and can create your website in a very short turn around if you devote the necessary time towards learning the process and designing each web page.
Almost all good professional web design agencies will be working on several projects at once, which could stretch out your timeline. However, it's worth considering if your own time could be better spent elsewhere. Even the simplest online website builders like Wix and Squarespace require a large chunk of time to create a page that's live and ready to share, especially if this is your first time dabbling in web design. It might appear time saving to go DIY, but if you can't commit to giving your website the time it deserves it is likely to take longer than hiring an agency, or cause your website to look disjointed and unfinished.
Although using a professional website designer can initially take longer, it will free up your own time and ensure you have a polished and professional website ready to go at the end.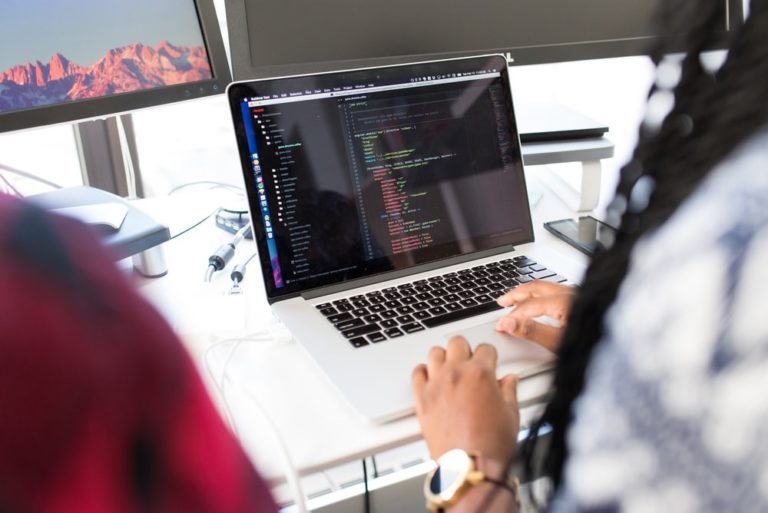 Expertise
Arguably the greatest advantage of using a professional design agency is that they already have the expertise in building a website. A unique and visually appealing website will always outperform a generic, run of the mill website, and that is exactly what you are paying designers to create. If you use a template from a popular online website builder, chances are your website will look similar to thousands of others that used the same template.
Designers understand important factors such as search engine optimisation, compositional design techniques, user experience design and digital accessibility. Each of these skills can take months or even years to learn. While you might grasp the basics, this isn't something to leave up to chance, especially given the importance of search engine rankings for growing your business.
It's also worth pointing out that online website builders like Wix or Squarespace won't offer the same level of support and advice that an agency can give. If you create your own website you might find yourself responsible for fixing bugs and managing updates, which can be time consuming and expensive if you end up needing professional help. A good professional agency should be able to minimise the chance of bugs and help with updates and quick fixes. Most online website builders also don't offer a good degree of online security or robust back-ups for when websites and servers crash, potentially causing you big problems if either were to happen.
Software
Wix and Squarespace are very user friendly, with both offering a very simple drag and drop design tool. They have fairly advanced software already. Wix offers various widgets like Wix Bookings and Wix Stores that enable you to expand your website's functionality. Squarespace also has its own, slightly limited, e-commerce and booking features. However, neither Wix or Squarespace will be able to offer as extensive a package as a professional website design agency.
Agencies will often have access to additional talent to create graphics, illustrations and imagery that will elevate your website, alongside the skillsets to ensure everything is up to scratch on your site for accessibility, mobile compatibility and optimal loading time. They can provide this without you even needing to think about it. This certainly takes a weight off your shoulders.
Analytics
Analytics and data should drive online marketing decisions, and you can get plenty from your website if you have the right tools. A professional website designer can include analytics in your web design and maintenance package, including statistics from Google Search Console and Analytics. Many online website builders offer analytics tools, but these often work with varying degrees of success, and for something so vital to your business, you need to consider the amount of data you need to inform your decisions.
Side-by-side comparison
Now, let's take a real deep look into a direct comparison between hiring a web design agency versus building your own website with Squarespace or Wix.
★★★★☆
Using a web design agency will free up your own time but agencies are likely to take around 8-12 weeks to build your website.

★★★★☆
Quick and easy to learn but may still take a few weeks to build a full website.

★★★☆☆
Squarespace isn't exactly difficult to use but it isn't quite as intuitive as Wix. It will take longer to learn.

★★★★★
You can tell your web design agency exactly what you need and they will implement the functionality for you.

★★★★☆
Wix App Market features a wide range of unique widgets and apps. E.g. Wix Bookings can be used to let your customers book and pay for appointments. However, there is limited widgets available.

★★★☆☆
There are a number of apps in the Squarespace Extensions marketplace. The ones currently available are mostly ecommerce and accounting-related. These are quite limited, especially for users who aren't on the Business Plan.

★★★★★
Your chosen agency should provide comprehensive, monthly analytics reporting which can be used to inform decision-making. The reports will either be accessible through your new website's dashboard or as regular emails.

★★★★☆
Wix's in-built analytics tool provides customisable reports on traffic, sales, contacts and blog engagement. They can be quite slow to load, however. It's also possible to integrate paid Wix websites with Google Analytics.

★★★☆☆
The Squarespace analytics tool provides some key statistics. It's also possible to manually set up Squarespace websites with Google Analytics.

Search Engine Optimisation (SEO)

★★★★★
The quality of SEO provided will vary greatly based on the website designer. However, any good website design service should include built-in keyword research and SEO which will help you rank on Google for your key search terms.

★★☆☆☆
Wix's SEO tools let you edit page titles, meta descriptions, and alt tags individually. There are also some further SEO tools like 301 redirects. However, you will need to do your own keyword research and create your own SEO strategy.

★★☆☆☆
Similar to Wix, Squarespace has some SEO options that you can use to customise aspects like the title tags, meta-description and URLs. Adding alt text for images is possible but it can be a bit tedious. However, devising a strategy and researching the right keywords for your website takes considerable time and knowledge.

★★★☆☆
Average prices range between £1500 and £3000 (plus a £10 to £20 monthly charge for hosting and maintenance)

★★★★★
£8.50 / month for freelance websites and £13.50 / month for e-commerce

★★★★☆
£10 / month for freelance websites and £20 / month for e-commerce

★★★★★
Unlimited. A good web design agency should be able to provide secure and fast hosting to suit your business.

★★★★☆
500 MB – 35 GB web space, depending on the pricing tier. There is also a monthly bandwidth limit in most plans. The 2 GB bandwidth plan should be enough for about 3,000-5,000 visitors per month.

★★★★★
Unlimited. There is no monthly bandwidth or storage limit with Squarespace.

✔ Chat
✔ Email
✔ Phone call

✖ Chat
✔ Email
✔ Phone call

✔ Chat
✔ Email
✖ Phone call

Best option if you have enough budget, you don't have time to spare, and you want a website that will last.
This will also be the best option if you are looking to rank highly on Google and other search engines.

Best option if you are looking for the easiest, cheapest website builder on the market with some useful apps & widgets.

Best option if you want to build yourself an attractive, structured website for your small business with great blogging functionality and friendly support.